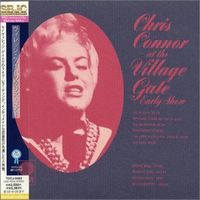 Dear Dr. Chilledair:

Was FM Records always a Roulette subsidiary, or did Roulette (and subsequently EMI) just acquire them at some point?I have never seen the original LPs - but I guess they don't say 'Roulette" anywhere based on what you're saying....

Best,
Jazz singer fan guy

***

Dear JSFG:

Originally, FM Records was definitely not a part of Roulette. Looking at one of the FM LP labels just now I note the imprint, "A Division of Village Planners, Inc." (?) I believe that Chris Connor's manager Monte Kay was a part owner. He's the husband (number one?) that Diahann Carroll punched out in public.

There were only a handful of releases on the FM (three?). Two by Connor and, I think, a Herbie Mann. I believe that producer Alan Douglas also had something to do with the label. At least, he produced Chris Connor's second LP for FM, Weekend in Paris. I'm not certain whether that LP ever appeared on CD, even in Japan. Terribly silly liners:

"Ah Chris, we've seen you in so many moods. We've heard you worried and heard you blue. We've heard you when your song was new to everyone. We know your sound of joy and how it has grown. Yours is a sound that resounds thorugh the years. Your way is stronger now and time has blessed you. Since you began, the places of the world are closer. So you swing into Paris for the weekend. You breathe its art and blend it with your own and you sing so all of us may hear."

(If I could write prose that purple I could die happy!)

Then, the liner notes were repeated in French, i.e. "Nous qui t'avons au traverser....etc."

Meanwhile, back in the States, FM Records is collapsing all around Monsieur Kay et Village Planners, Inc. I sense that the Chris Connor in Latin America boot was probably skedded to be an FM release. Maybe Chris' best recording IMHO.

I can recall that back in '63 there was a very long delay between the announced date for the first FM release, Chris'

"Early Show - Late Show"

and the time when it finally appeared. Months, not weeks. A not-hopeful augury.

"Early Show - Late Show," the LP with the funny

"Black Coffee"

lyric glitch, is also the one with the best Engrish lyric sheet I have ever seen on a Japanese CD issue. To wit: "Something due any day, I don't know right away, soon as it shows, men canibal down the sky, flaming its eye brought us boos, who knows" etc etc etc. Quite the hoot.

Hope that answers your question. . .and then some.

My web site