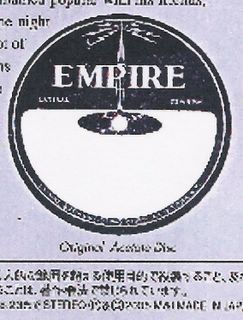 Original Bill Black acetate as shown in new Japanese liner notes

It is still a bit difficult for me to believe that this recording, one that I have held on to for more than forty years, is finally having its first commercial release. A year or so ago, when I took the original Bill Black acetate disc that has remained with me even throughout all my hippie perambulations in the 1960s, i.e. Woodstock, S.F., Mendocino, etc. etc. etc., to recording engineer Bob Tucker, here in L.A., it was nearly inaudible.
That's what happens to acetates, one-of-a-kind recordings that are made for immediate play and only hold up for a finite number of listenings. One suspects that eventually, at a certain point, they even begin to vaporize, with the contents of their grooves just drifting off into the ether. But Tucker did a fine job of restoring this, and even if there remain occasional aural infelicities in the final product, the innate swing of Black's singing more than offsets them.
The accompaniment is entirely bass and guitar duo, but the players are unknown. However, every single expert I've played it for, including noted plectrist Al Viola, says that the guitar player is most likely Howard Roberts. The bass is more problematic.

I have spent hundreds of hours trying to track down the genesis of this recording, with little-to-no luck. At one time I thought that it might have been produced by songwriter Don Raye, but I have never been able to verify that.
The disc will be available for sale in Japan and on line in the U.S. August 25th; meanwhile here is a
sample
of a few of the tracks, Down in the Depths, Laugh Clown Laugh, So It's Spring, Nobody's Heart, and Where Are You.
The other eight songs on the disc include: Spring is Here, Gloomy Sunday, I'll Never Be the Same, and Blame It on My Youth.
Link
to another entry in my blog about this recording.
My web site