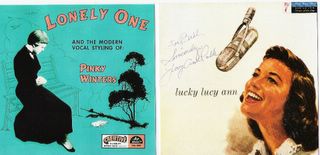 I have just returned from a Pacific Ocean-side party where
Pinky Winters
sang with only solo piano, and I have---no exaggeration---never heard her sound better. Her program included: I'm In Love Again, Old Devil Moon, Secret Love, and Emily.
Also performing was another "singer's singer"
Lucy Ann Polk
(she sang with Les Brown and Tommy Dorsey, and recorded with Brown, Dorsey, Dave Pell and Marty Paich). Lucy Ann has had to retire because of health problems. . .nothing all that serious. Perhaps this was the first time she has sung in public in a decade or more, and her performance was exiting and moving. She sounded fine and was accompanied by the terrific Dave Mackay, along with Dick Nash and company. Her songs included Imagination, Makin' Whoopee, Them There Eyes and But Beautiful.
Afterwards, I asked Lucy Ann if she understood that she is considered one of the Greats. She laughed, and said, "No. I guess they've been keeping it from me." Not just her singing, but her laughter and smile can light up a room.
Also present was another fine singer, but adamantly retired, Ruth Olay. If you asked her to sing---most know better than to do that--- she would probably snap at you: "I've done that already!" Instead, she was content to just lead the cheering section for her longtime showbiz comrades, Pinky and Lucy Ann. A few years back I had the pleasure of interviewing Ruth for a net jazz magazine that went defunct before
Q&A With Ruth Olay
could be published. Instead, it was eventually hosted by the site, (This here land is) Ehrensteinland, belonging to my good friend and constant traveling companion of the past three decades-plus-change.
In the circles in which I move, a mini-concert by Pinky Winters and Lucy Ann Polk counts as something of an historic occasion. I feel blessed, honored, not worthy, lucky, out of my depths, etc? Take your pick!