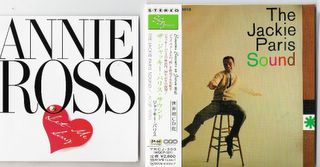 For a lover, such as myself, of the Great American Songbook and its singing jazz-inclined practitioners, yesterday was quite a day. In exactly one shipment of U.S. mail I received:

1.) The new Japanese CD reissue from The Frank Sinatra Society of Japan,
The Jackie Paris Sound

2.) The new Annie Ross CD, Let Me Sing

3.) A copy of a Japanese jazz magazine featuring an article about Wild and Wonderful West Virginia jazz singer (now retired) Jennie Smith
And last but not---if anything was ever not--- least. . .
4.) A rare tap dance 78 rpm tap dance instruction record sung by my all-time favorite, Beverly Kenney. Signed, yet! It was given to me by a close friend of Kenney, who died in 1960. Holding the unopened box containing the 78, my hands were shaking almost uncontrollably, both from the fear that the fragile disc might have cracked in transit from Florida or else that I would inflict similar damage when I opened it. Gakkk! But all is well, and maybe when I get it transferred I might put a portion of it up here as an mp3.

As for the new Annie Ross CD, it was cut in August. This is the way she sounds now, and according to the New York reviews of her current date at Danny's Skylight Room in NYC, she still looks beyond fabulous. When you hear the CD you will understand why trumpet player Warren Vache is working with her. Her voice, as some seem to be somewhat tiresomely pointing out, is "not what it once was" (but they don't care), and that might be true. But if so, Vache goes a long way on the recording--and presumably in person at Danny's---in offsetting this with all his brilliant fills, filigrees and obbligatos around Annie's singing. It is a brilliant combination. So many lovely things about the CD. The acappella version of Nobody's Heart, Lush Life...well, it is just terrific. And she is a great star! I love this CD!

A couple of weeks ago I received an email, prompted by my blog, from a Japanese jazz critic. He wrote:

Dear Mr. Bill Reed,
How do you do. I am a Japanese writer and also a physician. I was very much surprised and highly pleased to find Jennie Smith's information in your blog recently. Like you, I also have been searching to find out about how she is getting along. In addition to the access of internet, I have tried every possible means such as making an inquiry to the former far-east manager of Dot records. But, it was in vain. I am a strong fan of Jennie Smith here in Japan. I have four LPs of her own. I have been fascinated by her precise, clear, extended, and even charming voice. I am also a writer and in 2004, I introduced her as a wonderful vocalist to Japanese jazz fans. I feel she has been underrated. Thank you very much for
your efforts to find her
. By way of showing appreciation, I would like to send you my article about Jennie Smith if you let me know your address. Also, if it is OK, please send one more issue to issue to Jennie Smith. Anyway, I am very happy to know that she is living right in L.A. I am waiting for your reply. Thank you

Yesterday I received the mags, had the very sweet article translated and sent it off to Ms. Smith.. . .even in the midst of all the other excitement (see above). I trust she will enjoy it.

As for the 1958
Jackie Paris Sound,
long out-of-print but now restored to circulation, it is simply one of the ---pardon the adjectival overkill---greatest jazz vocal albums I have ever heard. Yesterday, I was happy to be able to throw my old taped copy away and finally hear it in all its digitally remastered glory from the SSJ of Japan. Kind of pricey I guess, but worth every penny. And what an honor to have two records that I produced, by singers
Pinky Winters
and
Bill Black
, issued in the same first wave of five SSJ releases as the Jackie Paris.